by BrioHR | Mar 09, 2020 | 0 Comments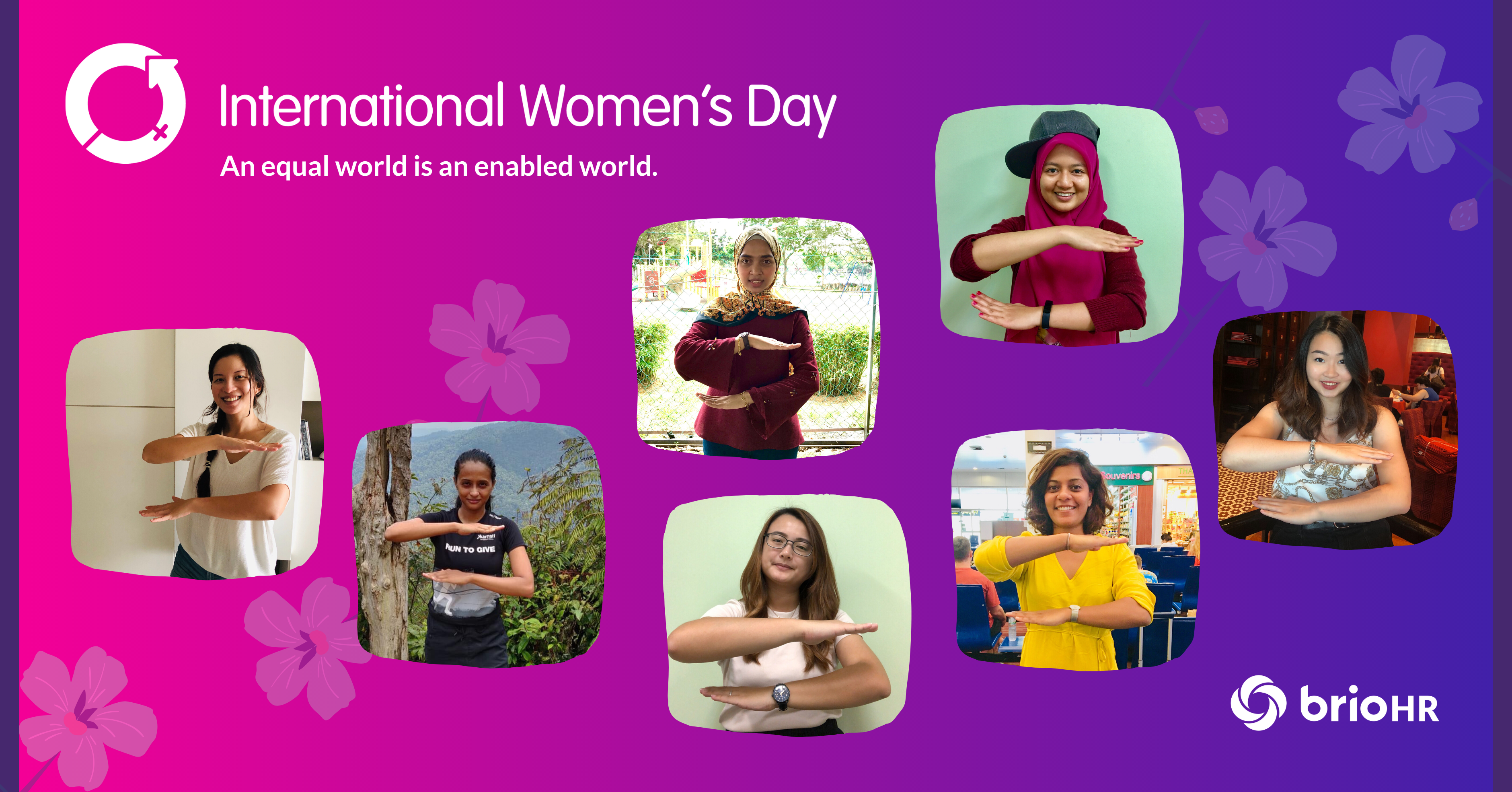 International Women's Day - 8 March
This day is celebrated every year to honour women's achievements and increase visibility for a gender equal world. We are all parts of a whole. Our individual actions, conversations, behaviors and mindsets can have an impact on our larger society.
Build a gender equal workplace
Gender equality is essential for economies to thrive. At the workplace, every employee, no matter their gender, should be motivated by a company culture that encourages them by providing equal rights to opportunities and grow. When a company's HR systems and policies are perceived to be fair, with equal opportunities for all, it increases trust (not only in the company, but in colleagues and superiors), encourages employees to work harder because of faith in the rewards system, and enhances focus (without negative issues to distract or fester).
Related article: Treat Your Employees Fairly
Much has been written about the glass ceilings women face at work, and how difficult it can be to return to the workforce post-pregnancy, or to balance work and childcare. There are also ample studies on the deep-seated prejudices facing women - inappropriate questions at interviews about a woman's relationship status, number of children, or intent to have children; the perception that a woman is 'costly' to a company due to maternity leave and the perceived 'distracted' / 'regularly absent' behavior of a mother who has returned to work. These biases are unhelpful at best, dangerous and unethical at worst.
Companies can play a part
Few companies can claim equal representation of women in management positions. We applaud Unilever's announcement that half of its 14,000 managers are women, and that half of its board is female. The need for women in positions of power goes beyond equality - with data-driven studies proving that diversity breeds innovation, and that adding a woman can make a material difference in shaping the business and culture of the company.
Beyond ensuring equal representation, companies can also take the below steps to encourage gender equality at the workplace:
Flexible time for men and women (implemented by BrioHR): in the case of parents, both the father and mother will be able to better manage childcare activities in addition to workload.
Open dialogue: where some might say sexist remarks are 'jokes' and that women who speak up are <insert unpleasant term>, enforcing a culture of transparency and open communication - where anyone feels safe to respectfully challenge another - is vital not just to the fight for equality but to business performance (employees flagging a vital issue early on, instead of being too afraid to voice it out, for example). Ensuring such an open culture is upheld is the duty of HR, management, leaders, and every employee. At BrioHR, leaders actively seek feedback and criticisms from team members, to demonstrate their commitment to openness and transparency.
Remote working (implemented by BrioHR): allowing anyone in the company to work from anywhere denotes trust in individuals, and that the company views each of them as responsible, professional adults. Being treated as such triggers employees to reciprocate by behaving accordingly, and in fact may drive employees to do more and do better as human beings and as members of a team. Additionally, working parents will appreciate the ability to stay home if needed to care for their children - and encourage men to take up their share of childcare activities, leading to more equality at home as well.
Related article: How Effective Performance Management Environment Impact Employee Performance
Add value to your business
Companies who are in favor of women are seeing their value in the way they organize their time, lead teams and make strategic decisions. In fact, today we see more women surpass men in educational achievement. Companies play an active role in fostering diversity to close the gender gap. A more diverse workforce will naturally lead to a more inclusive culture.
Related article: Unity in Diversity: How to Consciously Encourage Diversity at Work